17/11/2014
Administrative and Commercial Complex, Moscow, Dmitrov highway, 1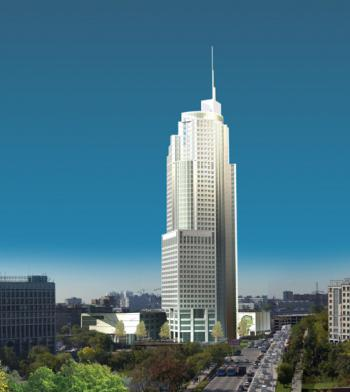 Administrative and Commercial Complex, Moscow, Dmitrov highway, 1, with an underground parking was equipped with SMES*.
---
The Complex is an administrative building of А-class consisting of 2 main high-rise elements: 47 floors a and 5, 6-floors stylobate.
The underground part of the building consists of 6 levels: a ground level and 5 underground levels.
At all levels parking, technical facilities and hand washing are available.
In the first two floors of the stylobate, commercial and trade spaces, as well as entrances to all functional parts re located.
The height of the first trade floor is 5.1 m, the second floor is 4.2 m.
The height of the typical floor of the high-rise part of the building is 3.75 m.
In the high-rise part, office open-planned premises with its elevator group from 3 to 46 floors are located. The pitch of the columnes is 8.25 m x 8.25 m.
The high-rise part of the building is divided into anti-fire zones and compartments. Two technical floors are planned. A helocopter ground is supposed to be on the roof.
---
Specialists of Engineering Center GOCHS "BASIS" performed works on creating SMES at the facility.
*SMES is Structured System of Control and Monitoring Engineering Systems of Buildings and Facilities.
---