10/12/2014
Power Unit №4 of Cherepovets State District Power Station based combined-cycle technology, Block №4 (PGU-420)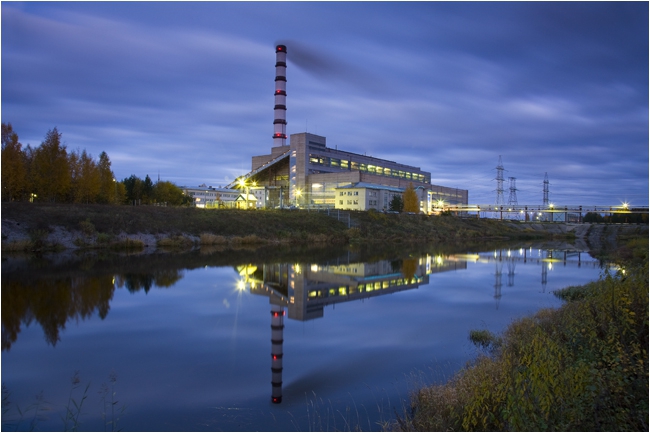 Automatic unit process control system and other equipment, communication devices providing regular work of the installation should be based on «SPPA-T3000» (SIEMENS AG).
---
Construction of PGU-400 MW is planned to be done on the free territory of the reserve branch of "OGK-6" of Cherepovets State District Power Station industrial site .
Cherepovets State District Power Station territory is located in the south-western part of Vologda region, in the southern part of Kaduysky area.
There are three sites for placement of the designed complex of buildings and facilities:
Main platform of power unit №4;
KRUE ground 220 kV;
Liquid fuel ground.
For buildings and facilities of new power unit №4 of at least 400 MW capacity, Cherepovets State District Power Station include:
Main building:
Turbine hall;
Boiler room;
Technical devices department ;
Chimney;
Emergency drain of tank turbine oil;
Condensate storage tanks (V-1000MJ);
Washing water collection tank ;
Transition Gallery;
Building section switches;
Outdoor transformers installation;
Diesel generating station;
Lightning rod;
Gaseous fuel economy
Gas treatment unit;
Booster station;
Gas condensate collection tank;
Natural gas receivers ;
Lightning conductors;
Administrative building, combined with the service;
Checkpoints;
Building water treatment plants:
Clarified water tanks;
Logistics warehouse;
Electrolysis:
Hydrogen receivers;
Storage of gas cylinders;
Playground of ignition gas;
Industrial water:
Multicell cooling towers;
Circulating pump station;
Camera switching №1, №2;
Camera switching №3 - №10;
A well with a latch;
Additional water pumping station ;
Domestic wastewater pumping stations ;
Construction of storm water:
The capacity of storm water collection;
Construction of additional cleaning of storm water;
Pump station storm water №1 - №3;
Pumping stations effluent №1;
Receiving buffer capacity of effluent;
Liquid fuel economy:
Receiving-drain device diesel fuel;
Storage of diesel fuel;
Pumping station diesel fuel oil with a warehouse in the container;
Underground drainage tank (V = 100 cubic meters);
Lightning conductors;
Checkpoint;
Storage of spent oil (tank V = 100 cubic meters);
Metering station fire fighting foams;
Pavilions №1 and №2 of shut-off control valves of fire;
Protection of power unit №4 industrial site ;
Process pipe racks and cable ducts;
Pier pipeline;
Process pipe racks and cable ducts to liquid fuel economy;
Cable boxes overpass .
_____________________________________
Specialists of Engiineering Center GOChS "BASIS" performed the following works:
Construction and installation,
Commissioning works,
SMES equipment supply,
Facility commissioning to supervisors.
SMES is Structured System of Control and Monitoring Engineering Systems of Buildings and Facilities).
---