28.11.2014
Office Building of Organizing Committee of the Olympic Games in Imereti Lowland, Sochi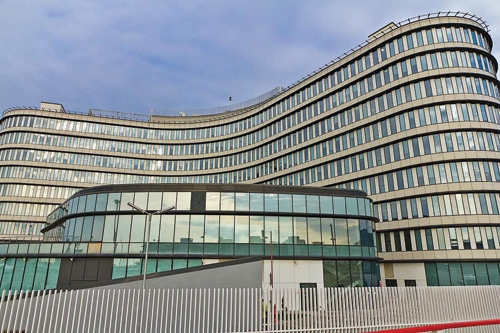 The object "Office building in Imereti lowland for the personnel of independent non-profit organization "Organizing Committee of the XXII Olympic Winter Games and XI Paralympic Winter Games - 2014 in Sochi" (project design, survey and construction works) was equipped with SMES* equipment.

---
The plot size for accommodation of the facility is 15,003 square meters (1.5 hectares).

At present, the area is free from existing buildings and engineering utilities. The site is located in a swampy terrain. To the west from the plot detached low-rise residential buildings are located. To the north, there is a site where a hotel (Aparthotel 4 *) is planned to be built.
On the territory of the office center an overground outdoor parking for 43 cars as well as a bike shed are designed. The project provides the concept of lighting and landscaping of the site.
The attic mark of the main building is + 40.20 meters, including technical floor + 42.90 m. Attic mark of extensions is +10.95 m.
---
Specialists of Engineering Center GOCHS "BASIS" performed the works on SMES pre-project design, project design and working documents.
*SMES is Structured System of Control and Monitoring Engineering Systems of Buildings and Facilities.


---