19.05.2022
May 19 - Birthday of the All-Union Pioneer Organization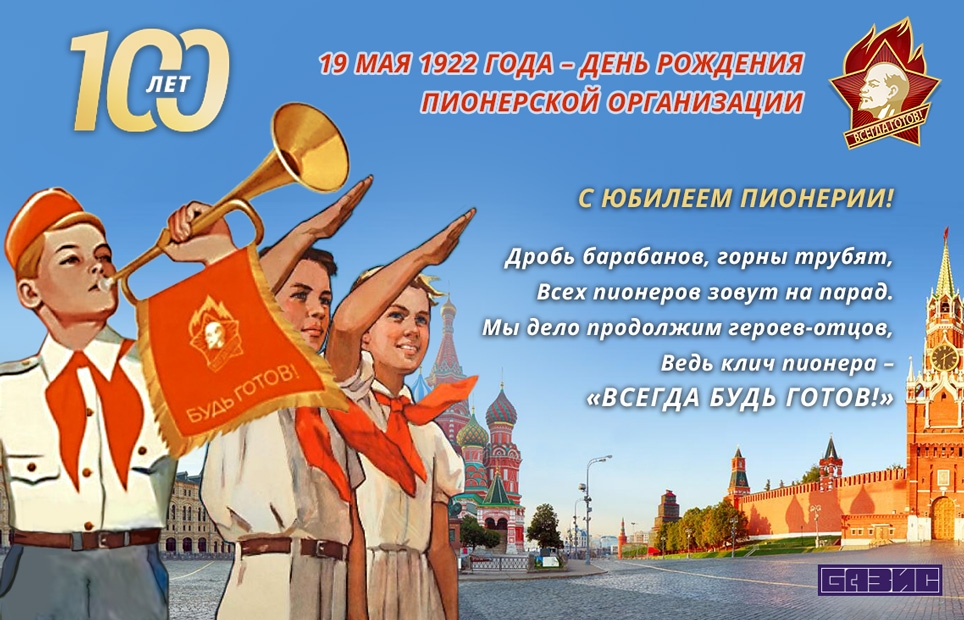 May 19 - Birthday of the All-Union Pioneer Organization.
It is 100 years since the appearance of the All-Union Pioneer Organization.
After the October Revolution of 1917 in many cities of Soviet Russia began to appear children's organizations, groups and associations. The Communist Party instructed the Komsomol to create a unified children's communist organization.
On May 19, 1922, the Second All-Russian Conference of Komsomol decided on the widespread creation of pioneer units. In October of the same year, the 5th All-Russian Congress of the Russian Komsomol decided to unite all the pioneer units, organized in different cities of the country, into a communist children's organization "Young Pioneers of Spartacus".
In 1924 it was named after Lenin. And after the 7th Congress of the Komsomol in 1926, which adopted a resolution to rename the RKSM into the Komsomol, the pioneer organization became known as the "All-Union Pioneer Organization named after V. I. Lenin".
The first pioneer units worked in the Komsomol cells of factories, factories, institutions, participated in subbotniks, helped in the fight against child neglect, in the elimination of illiteracy.
In the early 1930s pioneer associations began to be established in schools. The All-Union Pioneer organization was built on the so-called school principle: class - squad, school - pioneer troop. In the pioneer teams unfolded military-defense work, there were organized groups of young gunners, medics, signalers, were held military-sports games.
During the Great Patriotic War was organized by a mass timurovskoe movement. The Pioneers helped the families of soldiers, collected medicinal herbs, scrap metal, funds for the tank columns, were on duty in hospitals, and worked in the harvesting.
Already in the first days of the war 14-year-old Pyotr Klypa distinguished himself while defending the Brest Fortress. Very soon he was joined by pioneers who fought in partisan detachments and military units. The pioneers carried out the tasks of scouts and saboteurs, were liaisons for underground fighters.
Six pioneers were named Heroes of the Soviet Union: Lenya Golikov, Marat Kazey, Valya Kotik, Zina Portnova, Shura Chekalin and Boris Tsarikov.
The day of the All-Union Pioneer Organization named after Lenin, May 19, was officially celebrated in the Soviet Union as a holiday of the pioneer movement - Pioneer Day, which was one of the main holidays of the Soviet schoolchildren.
In 1991, the Pioneer Organization, like the Komsomol, ceased its activities.
The new Union of Pioneer Organizations, established in 1992 as a non-governmental public organization, is currently experiencing a revival.
Pioneer Day is currently celebrated unofficially. A number of events for pioneers throughout the country are held by the Communist Party of the Russian Federation (CPRF).
Source: https://www.calend.ru/events/5200/
---